Surfing

Learning to surf with Taq
Taq taught me to surf, although there are plenty of surf schools around. Boards run about $400 but can be rented for around $25/day.
It was easier than I thought. At first I was paddling too fast and staying ahead of the waves and 9' foam topped boards are relatively easy to balance on.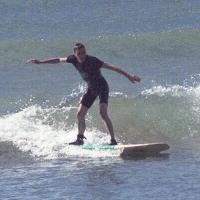 Second day's surfing
Almost right - it feels much easier when you bend your knees though.

Too far back on the board - fell off the back of the wave
Moving your weight forward increases the speed of the board, back slows it down. Slow down too much and you lose the wave.
If the weight is too far forward when you first catch the wave, the nose dives and you wipe out. Perfection is when the nose bounces on the surface in front of you at which point, it's time to stand up.

The final stage is always the same!
When the board slows, balancing gets much harder.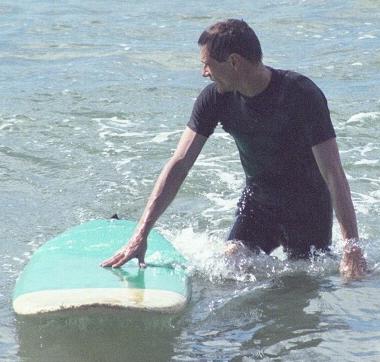 Ready for a break after an hour or so
After an hour of paddling out, waiting for the right wave (don't forget sunblock on you legs!), riding in and repeating - I'm ready for a break.
There are definately advantages to renting the board by the day or getting your own.